Japanese university-originated biotech ventures, bitBiome and Logomix, will collaborate and provide synthetic biology solutions toward partner companies to accelerate the bioeconomy industry utilizing bitBiome's proprietary microbial genomic database and Logomix's high-quality genome-writing technologies.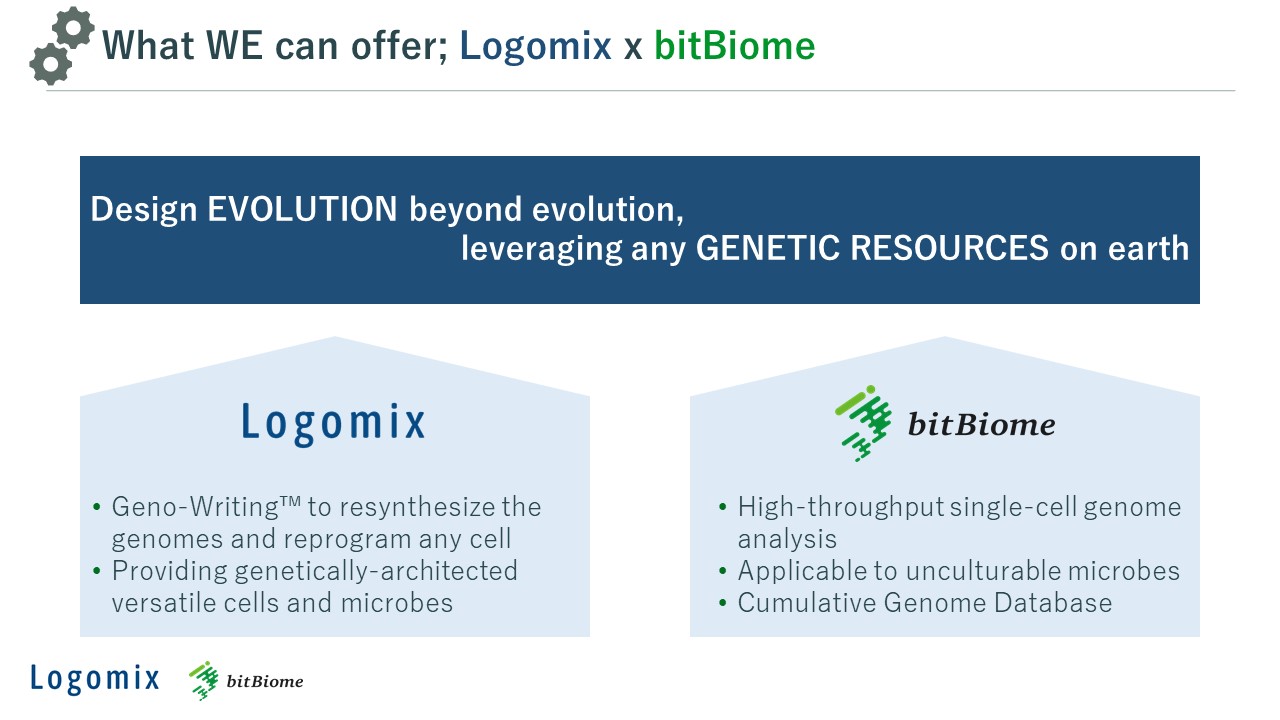 ■bitBiome: Massive genomic database with microbial single-cell genomics technology
bitBiome, Inc. is a Waseda University originated biotech startup since 2018 with its microbial single-cell genomics technology called bit-MAP®. With this technology, whole-genomes from various microbes on earth including difficult-to-culture, novel microbes can be obtained only from the single-cell.
bitBiome has been accumulating over 70,000 microbial genomes in the databases with the single-cell analysis from samples such as fecal, soil, or other environmenal since its foundation. bitBiome is aiming to achieve more than 200,000 microbial genomes by 2022 and utilize this database for further biomanufacturing.
■Logomix:Genome-writing technology platform
Logomix, Inc. is a Tokyo Institute of Technology originated synthetic biotech startup since 2019 with its core technology of the large-scale genome architect platform, Geno-WritingTM. Geno-Writing™ covers a wider genomic region where existing genome engineering technology couldn't cover, enabling further design, editing, and synthesizing the genomes in high accuracy.
Logomix is a synthetic biology solution provider with genetically-architected versatile cells and microbes for various customer needs. Logomix is currently working with pharmaceutical companies for their drug development and cell therapy pipelines, as well as chemical companies to improve and accelerate the process of engineering biology, and to achieve highly productive R&D and ESG-friendly bio-manufacturing.
■[Genome database] x [Genome writing] = [Accelerating bioeconomy industry]
While bitBiome has accumulated a wide variety of microbial genomic data that cannot be compared with conventional methods, it is difficult to utilize and evaluate the genomic data efficiently.
While Logomix boasts technological superiority in genome engineering compared to US/EU biotech companies, accelerating the accumulation of data on industrial microorganisms has been a challenge.
By combining the strengths of both companies, bitBiome, with its highly unique microbial single-cell genomic data, and Logomix, with its advanced genome writing technologies, will be able to provide seamless synthetic biology services ranging from big genome data to highly functional cell development.
In recent years, the rapid advancement of technology through the integration of biotechnology and digital technology has led to the commercialization of synthetic biology and the realization of a bioeconomy, particularly in Europe and the U.S. The combination of the core technologies of bitBiome and Logomix enables us to provide high value-added synthetic biology solutions that meet international needs.
At first hand, we will focus on six use cases (1) Genome mining discovery and experimental validation of novel natural products from biosynthetic gene clusters of difficult-to-culture microbes, (2) Design & build microbial library of customer-owned microbial strains and high-throughput screening, (3) Optimization of designing living medicine development platform, (4) Sustainable agriculture with highly functional, synthesized bacteria consortia, (5) Development of a material circulation system using special environmental bacteria that synthesize organic carbon from H2 and CO2, contributing to decarbonization and carbon recycling, and (6) Development of plastic-degrading strains and enzymes. We will launch projects through partnerships with companies that have R&D needs.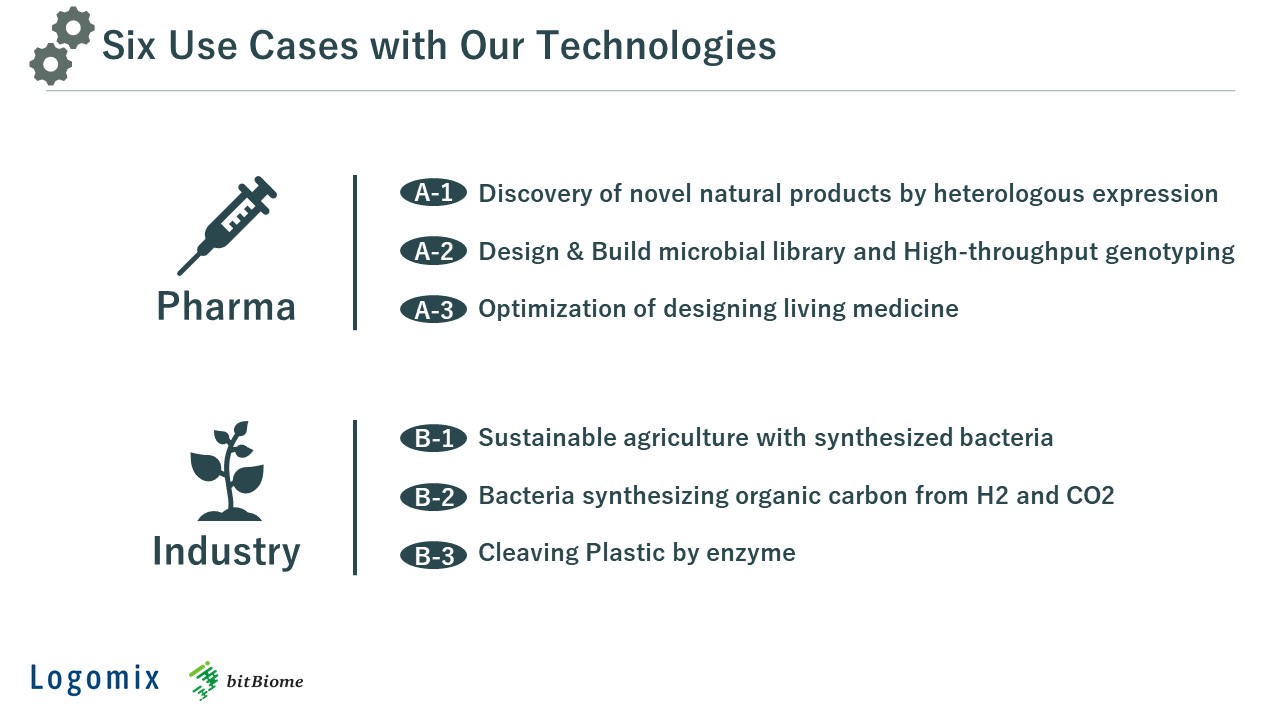 In this partnership, the two companies will aim to realize a bioeconomy society through the creation of novel value through collaboration with partner companies under the slogan, "Design EVOLUTION beyond evolution, leveraging any GENETIC RESOURCES on earth".
●About bitBiome, Inc.
bitBiome, Inc. has been busy sequencing genomic data of all microorganisms on the planet at the highest resolution to 'renovate' every industry. Using our unique single-cell genome analysis technology, bit-MAP®, we are capable of efficiently acquiring complete genome sequences of microorganisms that were previously impossible with existing technologies. We build a microbial genetic database that surpasses others in both quality and quantity to create an innovative data-driven bio-production platform in collaboration with industrial partners.
https://bitbiome.co.jp/en/
●About Logomix, Inc.
Logomix is a synthetic biology startup company founded in Tokyo in 2019, based on the intellectual properties and genome writing knowledge cluster of Dr. Yasunori Aizawa, (Associate Professor of Life Science and Engineering at Tokyo Institute of Technology).
Logomix is the genome architect company. Logomix integrates human genome-writing technologies, Geno-Writing™, with knowledge clusters of genome architect and synthetic biology, providing genetically-architected versatile cells and microbes for customers across a range of industries from agriculture to pharmaceuticals.
https://www.logomixgenomics.com/
Also, Logomix has launched "Bacterial Genome Architecture Project (BGA Project)" on Sep 2020 and designing artificial E.coli genome. BGA Project is expected to become Japan's first open innovation platform for synthetic biology to bridge various industries.
https://www.titech.ac.jp/news/2020/047749.html
※Synthetic biology
This is an academic field that designs and creates artificial cells with new material production systems and sensor functions by combining the metabolic pathways possessed by various species in nature. It is attracting a great deal of attention as a material production and manufacturing industry using artificial microorganisms and cells that have been improved at the genome level.
Companies involved in synthetic biology span a diverse range of industries, from agriculture to healthcare to meat substitutes made from cultured cells, enabling more sustainable production, and recycling of the carbon dioxide emitted leads to the production of biofuels.
※Bioeconomy
The bioeconomy industry is expected to grow to a market of 2.7% of the total GDP of OECD countries by 2030 (apprx. 180 trillion yen), and to a market of approximately 400 trillion yen by 2040 (according to McKinsey Global Institute). It is expected to bring about changes in a variety of industries, from the environment, chemicals, and materials fields to agriculture, food, and health and medical fields.
※Living Medicine
In the broadest sense, it refers to the use of animals, bacteria, fungi, and viruses to attempt to treat disease, but here it specifically refers to the administration of live bacteria whose genome has been modified to have a specific metabolic function in an attempt to address dysregulation and other causative factors of disease.